Order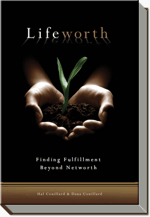 Thank you for you interest in purchasing "Lifeworth: Finding Fulfillment Beyond Networth".
We offer three methods to place your order depending on where the book will be shipped, and how many books you would like to order.
1 – 9 books: $19.95
10+ books: $15.95
Plus Shipping and Handling and GST (Canada only).
| | | | | | | | | |
| --- | --- | --- | --- | --- | --- | --- | --- | --- |
| Canadian (1-9 Books) | | | | USA & International | | | | Quantity Order (10+ books) |